Build your own website at Moonfruit.com


Tuesday, January 5 2010
RESOLVED: Service Outage 20:57 GMT 05 Jan 2010
By Eirik Pettersen on Tuesday, January 5 2010, 21:44 – Service status
DETAIL: Our database server has required an emergency restart
rolex replica
RESPONSE: We are currently restarting all dependent services
UPDATED 21:47 GMT: Services have been returned
UPDATED 10:17 GMT 06 Jan 2010: Our apologies for this very unexpected outage. All website data is safe and all services were returned to normal in 50 minutes.
We were due to upgrade the software licences on our database layer which should have happened automatically. Unfortunately, there was a miscommunication with our database vendor that caused our database layer to shut down. After emergency discussion with our vendor the issue was resolved.
This is a unique event and will not happen again. We can only apologise for the inconvenience caused by this downtime.
7 comments
Saturday, January 2 2010
Accessing Email from the Web
By Walt on Saturday, January 2 2010, 13:58 – Technical info
If you ever have problems accessing your email through the Moonfruit portal i.e. moonfruit.com (via the Domains tab) or you seem to be getting errors in you mail client e.g. Outlook or Mail then the quickest way to access your mail is via Webmail.
Simply access your account using:
http://webmail.mysitename.com
So simply add 'webmail.' to the front of your domain name without the www. This will bring up your webmail login page. Add your mailbox name (not an alias as this won't work), i.e. your full email address in the top fields and your email password in the field below e.g. [email protected]
The same applies to all other domains where a mailbox has been set up, and don't forget to use the mail box name not an alias.
The other good thing you can do with webmail is that you can bookmark this webmail address to your Favorites in the browser.
Hope you find this useful.
Walt
6 comments
Monday, December 14 2009
Adding social media to the mix. Should you? Could you? Would you?
By Wendy on Monday, December 14 2009, 15:45 – Moonfruit Invites Series
We've met so many interesting people during the Moonfruit journey we thought why not get them to share their experiences and expertise with the wider Moonfruit community! So we've started a new blog series, 'Moonfruit Invites'. If you'd like to write a guest post which you think would interest the Moonfruit community do get in touch!

This guest post has been written by Business Link Entrepreneur of the Year and marketing expert Gemma Went who also has a Moonfruit website!
It's been hard to avoid the subject of social media recently. The business, marketing and mainstream press has been full of both positive and negative opinion. It's even graced the pages of Heat thanks to celebrity Tweeters. But is social media a viable option for business? In my humble opinion, yes. Definitely.
Before I go into the whys and wherefores of that statement, I should introduce myself. I've been a marketing and pr professional for the last 10 years, earning my stripes primarily within the creative industry. I set up Red Cube Marketing this time last year to offer marketing and pr consultancy to businesses and soon added social media to that offering after immersing myself in it and becoming 100% hooked on its power soon after. I am also a Moonfruit user, yes the Red Cube site was done in my favourite sitemaker system (and no they're not paying me to say that!).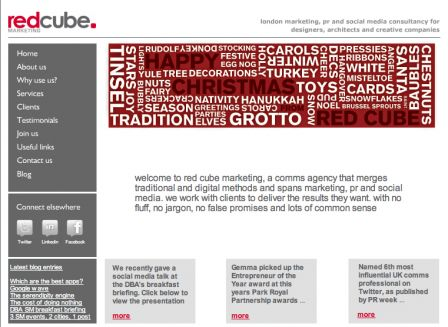 Search Archives
Bookmarks

Categories
Last comments
Moontweet
Tags
AdSense
Build a website
Competition
Domain name
Domain names
email
Email
Google maps
HTML
mail
Membership
Moonfruit
Release
Resellers
SEO
Social bookmarking
Twitter
Webmail
Website builder
Youtube
All tags Links
Moonfruit website builder
Gandi website
SiteMaker service Status
__Useful stuff__
__blogroll__
Entries feed
Comments feed
Bookmarks

Continue reading… comments Tuesday, December 8 2009
Cool shops on Moonfruit using the HTML widget
By Joe on Tuesday, December 8 2009, 13:37 – SiteMaker features
Amazon
Ecommerce
HTML
Website builder
Well, we told you the HTML widget would open up new possibilities for e-commerce. And it looks like a few of our cutting edge users have started to integrate full-blown Amazon stores into their Moonfruit websites. Clever them 😉
Of course this won't stop us working on our own e-commerce upgrade which is due out mid next year, but it certainly gives you something to get on with.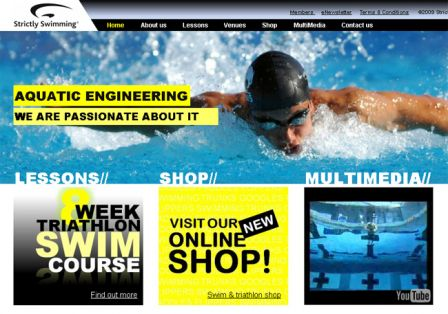 The Strictly Swimming home page with large shop link

So how have they done this?
Continue reading…
no comment
Monday, November 30 2009
New Toolbar updates as requested by you 😉
By Joe on Monday, November 30 2009, 11:54 – Release notes
Following the article we published a few weeks back informing everyone that the New Toolbar would become the only Toolbar available from 1 Feb 2010. We got a lot of very good feedback from you along with suggestion about some tweaks that we could provide to make it even better. So we did them.
This was mainly around being able to hide/minimise different parts of the New Toolbar interface (e.g. sidebar/top icons) so that you had more room to play with while editing your site. So we've added the ability to do both of those things, which means you can now choose exactly how you want to set up the New Toolbar to so it can be viewed just the way you want it to.
So, just a quick reminder, this is what the New Toolbar looks like.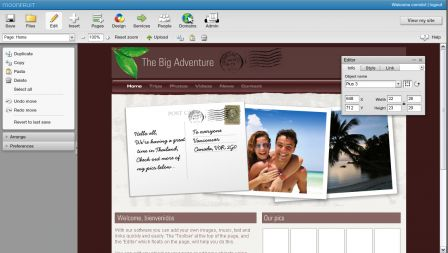 New Toolbar (side bar open)
Continue reading… 32 comments Friday, November 27 2009 RESOLVED: Service Outage 14:31 GMT 27 Nov 2009 By Eirik Pettersen on Friday, November 27 2009, 14:35 – Service status DETAIL: We are currently experiencing a problem accessing our filers RESPONSE: We will need to reset the service, this should not take much time UPDATED 14:47: The restart was successful. 4 comments Wednesday, November 25 2009
3 Jobs @ Moonfruit – Flash/Flex + Javascript/HTML + Sys Admin
By Joe on Wednesday, November 25 2009, 15:49 – General chat
Hurray, jobs at moonfruit!! We're running to keep pace with you wonderful customers, so we're keen to boost the size of team moonfruit to help us kick off 2010 with a super new power team. Are you a Flex superhero? Can you write Javascript while tied up upside-down? Can you keep servers running during an alien attack? If the answer to any of these is yes, you could be kind of person we're looking for.
We're moving into a cool new office in Jan. It's spacious, floor to ceiling windows nr Oxford Circus and Soho. We need folks to fill the space (and up our DJ Hero scores)!
And if you know anyone for whom any of the answers to these might be yes, tell them too. We're known to reward people from time to time with shiny new mac products…
Full details below.
Continue reading…
one comment
New Toolbar for everyone from Feb 2010
By Joe on Wednesday, November 25 2009, 09:10 – SiteMaker features
Following the successful roll out of the New Toolbar for all new customers late in October, and the positive feedback from customers using it, we are now planning to phase out the old 'basic' and 'advanced' Toolbars from 1st Feb 2010.
We wanted to give you long enough to play with the New Toolbar (if you haven't already) as well as provide further feedback to us about what could make it better for you before this switch-over date. We have already received valuable feedback during the beta phase from you that helped us shape changes for the current release. We want to make sure we give further opportunity before the final version becomes the only version.
New Moonfruit Toolbar So why are we doing this? Read on, read on… Continue reading… 57 comments Tuesday, November 24 2009
RESOLVED: Service Outage 24 November 22:09 GMT
By Walt on Tuesday, November 24 2009, 22:14 – Service status DETAIL: We are currently experiencing another a problem with our internet connectivity. RESPONSE: We are working with our provider to restore services as soon as possible. UPDATED 22:24: Our network provider has confirmed the problem and are working to restore service. UPDATED 22:52: Services appear to have been restored. UPDATED 11:03 30 Nov: Incident report from Telstra Added FOLLOW UP: We have received the following incident report from our upstream provider:-
UPDATE TO TELSTRA INCIDENT REPORT FOR OUTAGES ON 23 AND 24 NOV 2009
Having identified the root cause of the previous day's incident engineers planned an activity to configure the x.x.0.0/16 summary route on to the appropriate Juniper core routers to allow a future decommissioning of the legacy routers. The configuration of this summary route on the Juniper core routers resulted in Internet services for certain customers being affected again.
The engineers were unable to quickly isolate the cause of this issue and so reversed the change in order to restore service. However once the change had been reversed service was not restored for all customers as it should have been. The engineers identified a spurious route being received from the legacy routers which appeared to be causing the problem. The engineers reset the BGP sessions to the legacy routes which removed the spurious route and restored service to affected customers.
The engineers later identified a Juniper OS bug that had caused the reversal to be unsuccessful. Telstra has already been testing a later version of the Juniper OS in their labs which is intended for network wide deployment. Juniper has confirmed that this specific bug is resolved in the release in test but Telstra will also include this bug in their test planning prior to deployment in production networks.
REMEDIAL ACTION
An urgent cross-functional review of the current MPLAN process has been scheduled (including a detailed analysis of our planning and handling of this incident).
All MPLAN's now have an extended Director level approval policy whilst we review the current planned works process.
All MPlans will be checked after completion to ensure that the works have been carried out in accordance with the plan.
Telstra would like to take this opportunity to sincerely apologise for the disruption and inconvenience that these incidents have caused. Please be assured that the immediate actions stated above have been given the highest priorities within Telstra to be implemented as quickly as possible. This is in order to avoid further incidents and to provide the highest levels of service to our customers.
9 comments
Monday, November 23 2009
RESOLVED: Service Outage 23 November 13:02 GMT
By Walt on Monday, November 23 2009, 13:10 – Service status
DETAIL: We currently experience a problem with our internet connectivity.
RESPONSE: We are working with our provider to restore services as soon as possible.
UPDATE: Full service was restored at 13:25 GMT. We are now in contact with our provider to find out the cause of the outage.
7 comments
Friday, November 6 2009
#flymeto Creative website competition Winner and Top 10
By Joe on Friday, November 6 2009, 17:47 – General chat
Oooo this was a toughy. There was a flurry of entries on Friday from people who've clearly spent some time working on their #flymeto websites for the chance to win the last set of tickets to their dream destination. It's been a pretty tough decision going through them all and working out who the winner is. In fact too tough. So we've decided to give prizes for 1st, 2nd and 3rd places…

Winner!! – 1st prize of a $3500 holiday to Tokyo Japan from the UK!!
@SimonCwaller: Hi chaps, here is my entry for the #flymeto competition. I hope you enjoy it!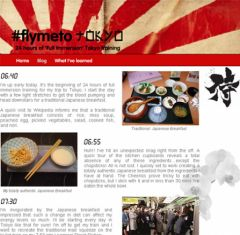 http://flymetotokyo.moonfruit.com
1st runner up – 2nd prize that we made up because it was too hard to pick. These guys will get $2000 towards their trip, which will hopefully nearly get them there 😉
@netscribe http://twitpic.com/ohp0v – @moontweet #flymeto where the cherry blossoms bloom.

http://tokyobound.moonfruit.com
2nd runner up – winner of a shiny new ipod touch
@tom_hayward: @moontweet #flymeto my updated NYC Site for the contest 🙂 thanks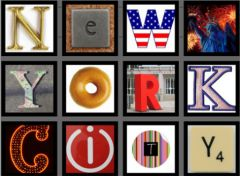 http://newyorkfeeling.moonfruit.com
Continue reading…
no comment
Monday, November 2 2009
Moonfruit goes global – your site served from 14 locations around the world
By Joe on Monday, November 2 2009, 10:57 – Release notes
Moonfruit.com and every site hosted by us are now served from 14 locations around the world.
To celebrate the launch of this new service we are offering five (5) pairs of return tickets from wherever you are in the world to any of the 14 locations that Moonfruit sites are now served from. And we'll offset the carbon footprint of your flight so you can still look all your green friends in the eyes – or will that be green eyed friends 😉 – with a clear conscience.
To find out more read on…
Continue reading…
51 comments
Wednesday, October 28 2009
Scheduled Mail Service Maintenance 00:00 – 06:00 GMT 28, 29 and 30 Oct 2009
By Walt on Wednesday, October 28 2009, 17:53 – Service status
REASON: Network distribution maintenance
PLANNED DURATION: 3 days (limited to a few hours each morning)
NOTES: Our domain partner Gandi will be performing major upgrades to their network distribution infrastructure during the nights of 28 to 30 October. During this time email services will experience a number of intermittent disruptions in connectivity beginning at 12:00am (GMT) with maintenance activities finishing by 6:00am (GMT) each day. We will endeavour to minimise impact to services where possible, but given the scale of the upgrades being performed, most services will encounter at least some disruption. No mail will be lost but access may be restricted and delivery of mail delayed.
We apologise in advance for any inconvenience this work may cause.
no comment
Monday, October 26 2009
New Release – 27 October 2009 – Finalised New Toolbar
By Joe on Monday, October 26 2009, 17:48 – Release notes
Thank you to all of those who provided us with feedback over the past few weeks while the Toolbar has been running in Beta. This has been very helpful to us in ironing out some of those strange little bugs. We're very pleased to announce that the new (and improved) Toolbar is now live! Here's a quick grab of what the final version looks like.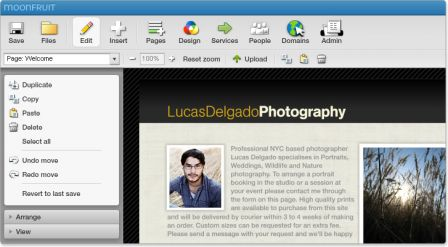 New Moonfruit Toolbar
So what are the differences? Read on, read on… Continue reading… 19 comments Thursday, October 15 2009
Our partnership with MOO and free MOO card giveaway!
By Wendy on Thursday, October 15 2009, 17:53 – General chat
We've partnered with MOO, who love to print! You can use your own images, logos and content to customise your own business cards and personal products. Much like Moonfruit, MOO provides easy to use edit tools to customise your business cards and they also love good design.
We came across MOO when we needed to print our own business cards and we loved them so much we thought your might like to use them too for your projects and business ventures. We know many of you have fabulous images, designs and logos which you already use for your Moonfruit sites. MOO also think their customers might like to build Moonfruit sites to promote their projects, businesses and communities.
So to kick off the partnership we've been promoting some unique offers to our customers.
Continue reading…
4 comments
RESOLVED: Service Distruption 15:30 – 16:20 BST (GMT +1) 15 Oct 2009
By Walt on Thursday, October 15 2009, 15:39 – Service status
DETAIL: We are currently experiencing some unexpected problems with our service delivery.
RESPONSE: We are investigating this and expect to have this resolved promptly.
DURATION: We will provide an update on the cause and resolution once completed.
UPDATE: 16:20 BST (GMT +1) 15 Oct 2009
We were performing a routine maintenance operation to expand disk space. This normally requires no downtime, however the operation hung causing a cascading problem which required us to restart the entire service.
Because the restart was unscheduled we took great care to minimise risk. This means that restarting our entire service takes time.
31 comments
Tuesday, September 29 2009 New release – 29 September 2009 – New interface, HTML widget, site copy and more…
By Joe on Tuesday, September 29 2009, 10:00 – Release notes
HTML
Moonfruit
Release
Website builder
Yeah, it's release time again! Believe it or not we get just as excited as you do at these times. The months of hard work all come together and we get to push new things out to the Moonfruit-osphere. And this one is a biggy too.
So first things first, the new interface. For those of you who didn't see our sneak preview, this is what it looks like.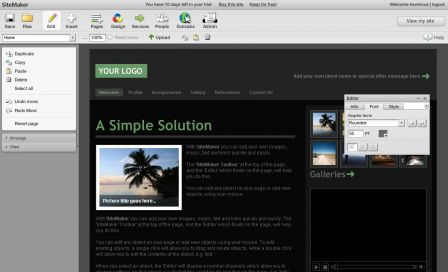 General edit functions (click to enlarge image).

We're seeing the largest overhaul to the edit environment in the last 5 years as we drag SiteMaker kicking and screaming into the present and pave the way for the future. The long awaited HTML widget is now out of beta, works in all browsers (ooooohh), and opens up libraries of additional content. And you can now copy an entire site too…
Continue reading…
82 comments
Tuesday, September 22 2009
Sneak Preview: Radical Overhaul of Moonfruit Sitemaker Edit Environment
By Wendy on Tuesday, September 22 2009, 11:24 – SiteMaker features
We love the autumn(fall)! After a refreshing summer break everyone's 'back to school', sleeves rolled up and raring to go! The Moonfruit team is no exception: we're dying to show you the new product improvements we've been working on over the last few months.One of the areas we've wanted to improve and simplify for several years now is the editing workspace for Moonfruit. We wanted to provide old Moonfruiters with quicker access to hidden power-user tools and to help newbies get to grips with customising their websites faster and even more intuitively. So here's a glimpse of what's coming very soon…
Continue reading…32 comments
POSTPONED: Scheduled Downtime 06:00 – 08:00 BST (GMT +1) 25th Sep 2009
By Walt on Tuesday, September 22 2009, 11:20 – Service status
REASON: Data cleansing and archiving
PLANNED DURATION: 2 hours
NOTES: To improve the efficiency of our database, we plan to archive legacy data. This operation needs to be done off-line, that is all websites must be taken off-line for this period. Customers will be shown a page advising them that their site is unavailable and will be back up shortly.
We apologise for any inconvenience.
no comment
Wednesday, September 16 2009 Moonfruit twitter campaign wrap up – creative responses under reported
By Joe on Wednesday, September 16 2009, 11:02 – Moonfruit in the news
Before we launch into a new season of exciting product releases (really watch this space for a radical overhaul!) and new fun and games. We thought we'd reflect on what a crazy summer it's been. The Twitter campaign we ran in early July sparked a huge amount of interest across the globe with over 200 blogs and articles written in everything from the Wall Street Journal, FT and Forbes magazine in the traditional press through to Techcrunch and Mashable leading the way online.
It has also been interesting to see the varied responses from different parts of the world. For example the US press were much more positive about the campaign, while the UK press focused more on the controversy and ethics of the campaign.
But what was interesting was that few articles really picked up on all the creative entries and enormous amount of time, love, humor and fun participants generated during the campaign. This was obvious in a conference we spoke at last week about marketing on Twitter where many of the experts and delegates told us there were totally unaware of the creative part of the campaign and felt it had been under reported.
For us this was the most exciting and rewarding part of the campaign, where we got to really engage with the Twitterverse and see your playfulness and good humour come out in bizarre and wonderful interpretations of our brand. With over 500,000 tweets, 3000+ images, 500+ videos, and many songs, poems and even crochets birds created by you during these 7 days, this really made the campaign what it was.
We are grateful to all participants, new subscriptions increased by 20% during the summer so we must be doing something you like! We will continue to ensure we keep innovating, provide good service and add a little humour and creativity to everything we do.
So for all of those that missed it, we thought we'd summarise these wonderful contributions one more time. This is by no means exhaustive, but gives a good taste of what was done.
CREATIVE COMPETITION PICTURES
Just a few (hundred) of the many awesome pictures you guys sent in, THANKYOU!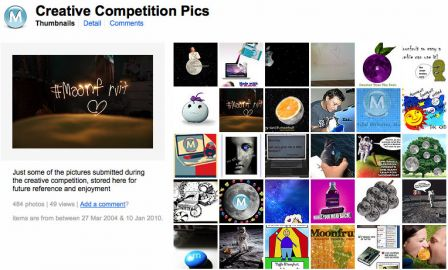 www.flickr.com/photos/40593155@N08/sets/72157621912820609
OUR FAVOURITE 30 CREATIVE WEBSITES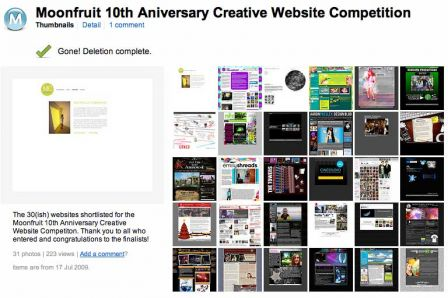 www.flickr.com/photos/40593155@N08/sets/72157621596748144
YOUTUBE VIDEOS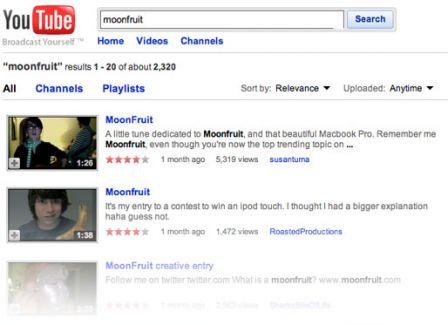 http://www.youtube.com/results?search_query=moonfruit
So there you have it. We're still beavering away on new product features and a radical overhual of the Moonfruit tools, to be released next month. And maybe, just maybe we may call on you again with some Twitter based madness…
3 comments
« previous entries – page 1 of 7