Build your own website at Moonfruit.com


Release notes
Entries feed – Comments feed
Monday, November 30 2009
New Toolbar updates as requested by you 😉
By Joe on Monday, November 30 2009, 11:54
Following the article we published a few weeks back informing everyone that the New Toolbar would become the only Toolbar available from 1 Feb 2010. We got a lot of very good feedback from you along with suggestion about some tweaks that we could provide to make it even better. So we did them.
This was mainly around being able to hide/minimise different parts of the New Toolbar interface (e.g. sidebar/top icons) so that you had more room to play with while editing your site. So we've added the ability to do both of those things, which means you can now choose exactly how you want to set up the New Toolbar to so it can be viewed just the way you want it to.
So, just a quick reminder, this is what the New Toolbar looks like.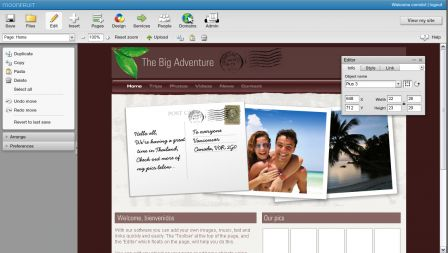 New Toolbar (side bar open)

Continue reading…
36 comments
Monday, November 2 2009
Moonfruit goes global – your site served from 14 locations around the world
By Joe on Monday, November 2 2009, 10:57
Moonfruit.com and every site hosted by us are now served from 14 locations around the world.

To celebrate the launch of this new service we are offering five (5) pairs of return tickets from wherever you are in the world to any of the 14 locations that Moonfruit sites are now served from. And we'll offset the carbon footprint of your flight so you can still look all your green friends in the eyes – or will that be green eyed friends 😉 – with a clear conscience.
To find out more read on…
Continue reading…
51 comments
Monday, October 26 2009
New Release – 27 October 2009 – Finalised New Toolbar
By Joe on Monday, October 26 2009, 17:48
Thank you to all of those who provided us with feedback over the past few weeks while the Toolbar has been running in Beta. This has been very helpful to us in ironing out some of those strange little bugs. We're very pleased to announce that the new (and improved) Toolbar is now live! Here's a quick grab of what the final version looks like.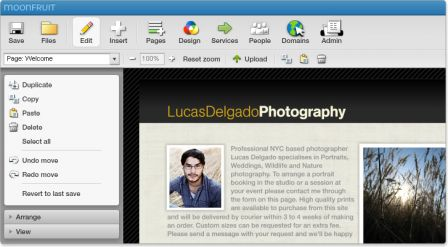 New Moonfruit Toolbar
So what are the differences? Read on, read on…
Continue reading…
19 comments
Tuesday, September 29 2009
New release – 29 September 2009 – New interface, HTML widget, site copy and more…
By Joe on Tuesday, September 29 2009, 10:00
HTML
Moonfruit
Release
Website builder
Yeah, it's release time again! Believe it or not we get just as excited as you do at these times. The months of hard work all come together and we get to push new things out to the Moonfruit-osphere. And this one is a biggy too.
So first things first, the new interface. For those of you who didn't see our sneak preview, this is what it looks like.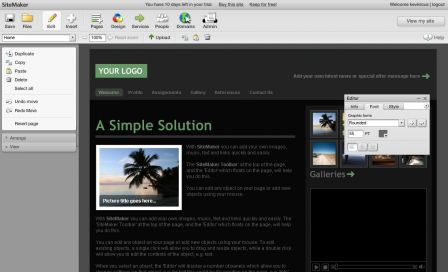 General edit functions (click to enlarge image).
We're seeing the largest overhaul to the edit environment in the last 5 years as we drag SiteMaker kicking and screaming into the present and pave the way for the future. The long awaited HTML widget is now out of beta, works in all browsers (ooooohh), and opens up libraries of additional content. And you can now copy an entire site too…
Continue reading…
85 comments
Monday, July 20 2009
New release – 20th July 2009 – Membership tweaks
By Joe on Monday, July 20 2009, 16:47
Facebook Connet
Membership
Website builder
Following the successful release of the Membership features in May, we had some requests for a few tweaks and additional options. So being the friendly and agile guys we are, we thought we'd do them (while continuing with the other things we're working on).
So today we published a few minor adjustments to the Membership settings to allow you to:
Set a redirect page after login
Disable Facebook Connect login
The first of these changes was much requested, allowing you to send your members to a specified 'success' page after they have logged in to your site. This is great for redirecting them to the 'members home page' or whatever page you want to send them to. You can set the 'post login page' on the Settings tab of the 'People' section when editing your site.
The second change allows you to disable the Facebook Connect login options for members. Facebook Connect allows new or existing members of your site to login using their Facebook credentials, so there is no need to create a new user account on your site. This streamlines the join process and makes it easier for you to attract new members. It also ties together with the ability to post out a note to your Facebook wall from the 'Send a message' section of 'People', which is a great way to invite people to join your site. However, the new setting allows you to turn this off, which some customers (particularly businesses users) had requested. Again you can change the settings to disable Facebook Connect on the 'Settings' tab in the 'People' section.
Things we're working on now are the final delivery of the HTML widget (currently available in beta, but now that Firefox 3.5 is out we can release fully), and some changes to the edit environment to integrate new technology on the path to the new e-commerce features.
We hope you like the changes!
28 comments
Monday, May 18 2009
New release – 18 May 2009 – Membership and more
By Joe on Monday, May 18 2009, 10:00
Facebook Connect
Membership
Twitter
Website builder
Want to know how to grow your website with more members and advocates? How to interact, manage and develop a better relationship with your visitors? Want to create members-only/client-only pages or sections? Want to post information or updates from your website to Facebook/Twitter? Build a collaborative website with edit rights for different people?
Well then, the membership release is what you've been waiting for! After many months of development it has finally arrived, jam packed with new features and a lot of improvement. Read on for more detail…
Continue reading…
121 comments
Friday, February 6 2009
Remember we said HTML was impossible – well maybe not completely impossible…
By Joe on Friday, February 6 2009, 08:09
Joe: Here is a true account from the development team of what happens when you leave them by themselves for a week, as told by Adam (one of our dev guys). Perhaps we should leave them alone more often…
---
Adam: So there we were, back from our Christmas holidays and nary a manager in sight. 'Organise yourselves this week' they said, giving the tech team free reign to work together and see what we could come up with. And what a week it turned out to be.
Continue reading…
36 comments
Tuesday, December 16 2008
New release – 18th Dec 2008
By Joe on Tuesday, December 16 2008, 15:40
Google maps
Releases
Website builder
Youtube
So this is Christmas (laaa, laaa, laaa, laaa), and what have we learned (laaa, laaa, laaa, laaa), another year older (laaa, laaa, laaa, laaa), etc. In fact speaking of another year older, as 2009 approaches we'll be entering our 10th year of moonfruiting, so not bad going for the old website builder.
Anyway, you don't want to hear about that, you're interested in Santa's Goodie bag, or should I say Google bag…
Continue reading…
51 comments
Monday, October 20 2008
.co.uk transfers now available!!
By Joe on Monday, October 20 2008, 17:22
Domain names
Domain transfers
We are very pleased to announce that we have released the changes required that now allow you to transfer your .co.uk domain names to moonfruit! Once your domain is transferred to us, you will benefit from the free email (5 mailboxes and infinite aliases) that other domain customers get. So what are you waiting for?!
Continue reading…
9 comments
Monday, October 13 2008
Interim Release – 13 October 2008
By Walt on Monday, October 13 2008, 16:51
What's this? Another release? Well not quite, it's an update to our previous release and a small one at that. Although it does include a nice feature for domains and a bug fix.
The key feature of this release is the addition of the preferred site address. This means that if you have one or more domain names, you can select one of these as your main address and whenever anyone types in one of the other domain names then they will redirect automatically to your preferred address. This is a very powerful feature for those wishing to make the most of marketing their site and using one particular address. You can do this by logging in, going to Admin > Site Address and then selecting your preferred address from the drop down. Once you close the panel, your site will refresh and you will have to log in again, which you will only need to do once.
What we have also released is a fix to the Video-no-audio bug. So for those of you who had videos on your site and needed to refresh the page to hear the audio, this is now fixed. If you have multiple videos on the same page you may hear a short burst of sound which is another bug we are looking at but we felt that ensuring your videos played audio was more important.
And coming soon: Google Maps widget. A simple widget to start with that will allow you to set a location, zoom level and permit toggling of basic features. We are aiming to get this out next release along with a number of other features. So we will keep you posted.
13 comments
Monday, September 15 2008
New release – 15 September 2008
By Joe on Monday, September 15 2008, 15:01
Domain names
Social bookmarking
Website builder
After a long wet summer, we've finally got some news to cheer you up. It's release time again! We've streamlined a few widgets, added social network bookmarking, and we're setting the stage for releases later in the year. You can also now transfer your domain names over to Moonfruit and use our website builder if you're with another provider. So have a look through the notes below and let us know what you think. Enjoy!
Continue reading…
32 comments
Tuesday, July 8 2008
New release – 08 July 2008
By Joe on Tuesday, July 8 2008, 10:00
Domain name
Google sitemap
Google webmaster tools
HTML
Website builder
Help, it's another monster release! It's just too big; we can't keep giving away so many new features. The poor development team, they really need a holiday. But it's good news for you and our website builder! So, keep reading…
Continue reading…
21 comments
Thursday, June 12 2008
Free domain name vouchers for all existing customers **
By Joe on Thursday, June 12 2008, 15:16
As promised we have now issued a domain voucher to all existing SiteMaker customers whether you pay monthly or annually. When we launched our new domain service in May, customers that pay monthly were credited on their next payment (i.e. within the first month). Annual customers had to wait until now. We delayed the issue of vouchers to annual customers so we could control the volume flowing through our system, as there were many thousands of domain vouchers to give away.
Continue reading…
30 comments
Thursday, May 1 2008
New release – May 1st 2008
By Joe on Thursday, May 1 2008, 11:43
It's release time again and this one is a biggy! Lots of things we've been waiting to get out for for a very long time, with something for everyone. Get ready for some excitement, quiet in the back row please, here it comes…
Continue reading…
72 comments
Wednesday, April 2 2008
Bug fixes and site updates – 2 April 2008
By Walt on Wednesday, April 2 2008, 15:55
We were worried that if we released bug fixes yesterday, no one would believe us (being April Fool's day). So we held off a day, did some more testing and felt happier getting them out today. Some of you may think we play computer games for 3 weeks and then have a mad rush of development over the last week to get work completed. If only! We've actually been busy fixing some bugs, while work continues on some big ticket items.
Today we released these changes to correct some annoying bugs and added a useful guide for those interested in Search Engines:
Continue reading…
7 comments
Wednesday, March 26 2008
New Release – 25 March 2008
By Walt on Wednesday, March 26 2008, 17:00
Apparently, spring arrived last week, but with the Arctic weather that hit the UK over the weekend you'd be forgiven for thinking we'd returned to mid-winter. But this week does mark the arrival of our 2nd release for the year with some goodies and some bug fixes. We continue to finish and refine two larger projects – domain name registrations and a new File Manager – and these will be launched very soon. But rather than keep you waiting we wanted to give you a few new features to play with while we polish the other features and we wait for the real spring to arrive.
So what's on offer this month? You'll find details below:
New Features
'Viewport' added to make editing and managing files easier
Improvements to W3C compliance and some tidy up
HTML version of page now opens in new window
Making Title tags more prominent in the HTML
'Show Homes' page and links added to moonfruit.com
Addition of 10 new templates
New SEO guide added to the moonfruit.com portal
Improvements to multiple selection with changes to using the Control or Shift keys
Ctrl key required for 'logout' from widgets when editing
Bug fixes
Making the File Manager more context sensitive when adding images, audio and video
Resetting the Video widget will now hide the video provider label
Continue reading…
8 comments
Friday, February 8 2008
New Release – 8 Feb 2008
By Joe on Friday, February 8 2008, 11:51
It's the first release of the year! Hurray! And hopefully a good one too. We've got a few big changes to site navigation, some edit improvements and some bug fixes/enhancements. Details below.
Continue reading…
83 comments
Thursday, December 20 2007
New Release – 20th Dec 2007
By Joe on Thursday, December 20 2007, 11:53
Ho ho ho. T'was the week before Christmas and all through the office not a developer was moving, not even those usually most active. Probably tired, but that's another story.
Anyway, it's Christmas present time! That's right, SiteMaker Claus has his goody bag stuffed full of little software updates for all the good boys and girls (and even those who haven't been so good). So here's the list in full…
Continue reading…
30 comments
Thursday, November 1 2007
Latest Bug Fixes
By Walt on Thursday, November 1 2007, 15:42
Following our release last week we encountered a few bugs. These have now been fixed and a list of the fixes can be found below:
Group permissions have been modified to make them more understandable and easier to use
Forum group permissions (setting a forum group) no longer affect member views of subjects list
A group can now be removed from permissions if required
You can now edit subject permissions multiple times (as you would expect)
When you open a single post with "read more" you will no longer see an additional 'ghost' post.
Fix for mini toolbar items – copy, paste, duplicate and delete now work as expected
Walt
18 comments
Wednesday, October 24 2007
Updated: New release – 24 October 2007
By Joe on Wednesday, October 24 2007, 12:40
Updated: We've released a fix for the forum bug with membership permissions and a few other minor things. Enjoy.
It's finally here, the new forum, multiple select and a host of other goodies. Enjoy the changes and let us know if you find anything peculiar!
Continue reading…
40 comments
« previous entries – page 1 of 2
Search Archives
Bookmarks

Categories
Last comments
Moontweet
Tags
AdSense
Build a website
Competition
Domain name
Domain names
email
Email
Google maps
HTML
mail
Membership
Moonfruit
Release
Resellers
SEO
Social bookmarking
Twitter
Webmail
Website builder
Youtube
All tags Links
Moonfruit website builder
Gandi website
SiteMaker service Status
__Useful stuff__
__blogroll__
Entries feed
Comments feed
Bookmarks